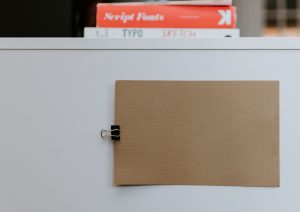 It's amazing what a few minutes and some magnets can do to have you on your way to living a bit more organized. Below you'll find four magnetic hacks and DIYs for all over the house and office —we couldn't keep it all serious, so we've included a fun DIY for you or the kids as well!
Hold Your Apron Together
It's grilling season! Make sure your apron stays put with this quick DIY.  Get two corks, drill a hole through the middles, glue a 10 mm x 1mm disc magnet on top of each, tie the apron through the loops. Now you can connect the magnets instead of tying your apron strings! For more ways to use magnets in the kitchen, check out this blog post.
DIY Magnetic Sweeper
This one might seem strange at first, but if you've ever almost stepped on a nail or do a lot of DIY projects, you'll want to try out this hack! All you need is a Swiffer-style broom (one with a flat bottom), and a magnetic sheet. Now, you just have to glue a magnetic sheet on top of the padding. When you hover it over magnetic objects and debris, it'll be picked up with ease! 
Organize Your Cords
How many times have you had to detangle, or worse, spend minutes trying to find your charger? You can save yourself a lot of stress with just a binder clip and an adhesive disc magnet! Just attach one magnet to a binder clip, slide your cord through the clip, and then attach the clip to a desk! For more desk DIYs and ways to spruce up your desk, check out this blog.
Keep Your Curtains Back
When you want the light to shine in, you're going to need a curtain holder, but they can get expensive! Instead, hold curtains back using just hot glue and 2 disc magnets. To make your own curtain holder you'll want to place two magnets around 6 inches apart from each other, then create a "bar" by glueing from one magnet to the other. Once dry, spray paint the dried glue and attach! For more ways to use magnets in the bedroom, bathroom, and kitchen, check out this blog post. 
Make Some Magic With A Harry Potter Wand! 
If this one isn't your thing, you can create one for your kids (or teens) and become the best gift-giver around. To make a wand, you just need some chopsticks, hot glue, optional burlap or twine, and a small cube magnet. The first part is decorating your chopstick. To make it look more realistic, we recommend adding hot glue in a circular motion around your chopstick either from top to middle, or middle to bottom — this will create a "twine" effect! If you want to take it a step further, tie burlap or twine around it to add some more texture. Once everything is dry, glue your cube magnet to the top of the chopstick. Then, wait for it to dry and paint over everything however you want. Now wave your wand over paper clips or other small magnetic materials and see the magic. 
Create More With Apex Magnets
In just a few steps you'll be on your way to a more organized and magical home! Show us your magnetic DIYs by sending us an email or sharing on our Facebook page. For more DIYs, check out the magnets for crafts or fix it with magnets sections of the blog!