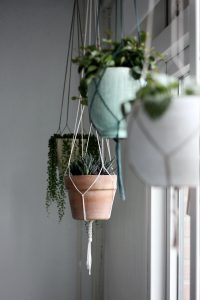 Say goodbye to nails and sticky adhesives that leave marks on your walls and say hello to hook magnets and countersunk magnets! Not only will these strong magnets stay put on the wall, but they're also easily adjustable and removable if you move or change your mind. 
Both countersunk and hook magnets are great choices as they have strong pull force capabilities. Remember, the size of the magnet isn't the only thing to look for — even tiny magnets can hold a lot! Instead, look at the size and pull strength of the magnet to make sure it'll hold your object. If you need help finding the right size, give us a call! 
Hook Magnets
Thanks to their tremendous holding power, with a range of sizes capable of holding 12 lbs up to 200 lbs, our hook magnets have a variety of uses including: 
Organizing Your Home or Office
Magnetic hooks are a great alternative to shelves and nails when hanging up decorative hanging plants, lights, shovels, and tools in your garage… the options are limitless! Just use magnetic paint or some sheet metal on the wall where you'd want to organize things and attach some hook magnets to the wall. Depending on the weight of your object, you might need to use strong magnets like our 25 or 50 lb hook magnets. 
If you don't have the wall space, hang your pots, pans, or other tools in your cabinets! For this, we suggest laying a small sheet of metal flat inside one or more of your cabinets on the bottom of the shelf. Then, attach a few hook magnets to the sheet facing downwards. Your pots and pans will now be easily reachable — and if your cabinets are tall, you might have enough space for cups and bowls on the same shelves! For a detailed tutorial, you can check out this previous blog post. 
Upgrade Your Grill or Bar
If you own a stainless steel grill, depending on its iron or ferrous material content, there are a few magnetic DIYs and hacks you can try. Just find an accessible portion of the grill (like the prepping table), as you'll want to add your hooks on parts of the grill that do not get heated. This is because the magnet could lose its magnetization if it reaches certain temperatures. Now you can hang BBQ utensils to add space and convenience. To save on table or lawn space, try hanging an ice or drink bucket up with a few strong hook magnets to the side of your garage or along a steel beam/pole on the deck. This handy hack will be much appreciated by guests that now won't have to bend down to get a beverage.
Countersunk
These strong magnets are a great option if you're wanting to limit your screw and nail usage as the magnet will add to the holding power. This can come in handy in many different ways including:  
Keep Things Closed (Or Open) 
If you have a pesky cabinet that just won't stay shut, magnetic latches are your answer! For cabinets, lockers, doors, or basically anything you want to keep closed (or open if it's a high traffic area), it only takes five materials (a drill, screwdriver, pencil, screws, and 1" x 1/2" x 1/8" neodymium countersunk block magnet to make a world of difference in your home. Read the entire tutorial here. 
Keep the Bathroom Tidy
Need to liven up and clear out more space in your bathroom? Try this magnetic mason jar shelf in your bathroom for cotton swabs and bobby pins, in your bedroom for jewelry. This DIY also works great in your kitchen for storing spices by using ½" x ¼" countersink ring - rare earth magnets. Essentially, you'll attach magnets to the bottom of a shelf allowing the mason jar lids to stick on! Check out the full tutorial here. 
Magnetic Branch Hanger
Do you hang up your reusable shopping bags, small jackets, or dish towels? Check out these DIY magnetic branch hangers that are both eco-friendly and creative! Grab some small mounting countersunk magnets and head here for the full tutorial. 
Let Apex Magnets Help You on Your Next Project
We're always working on ways our customers can use our magnets and other products, from hobbyists and crafters to manufacturers and business owners. Sign up for our newsletter to get these stories and more sent straight to your inbox each month.