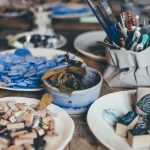 We all have that one area in our home that has become a designated space for forgotten items. It's usually called the "junk drawer" or "that storage closet I'll get to one day" that's full of old mason jars, buttons, and more. 
What if you could turn your unused stuff into something amazing for your home? Well, you can! We have compiled some of our best magnetic upcycled crafts using materials you probably already own. 
Mason Jar Storage
This DIY will liven up your space and make storage convenient. Try this mason jar shelf in your bathroom for cotton swabs and bobby pins, in your bedroom for jewelry, or even in your kitchen for storing spices by using ½" x ¼" Countersink Ring - Rare Earth Magnets. Check out the full tutorial in this blog post.      
Tin Can Succulents
An easy and unique way to add plants to your kitchen is by putting them on your fridge! You can find the entire tutorial here, but the premise is upcycling a tin can and using 8mm X 1mm disc magnets to attach it!
Magnetic Pin Dish
Love to sew, but can't keep track of your pins? Need somewhere to keep easy to lose items like safety pins, paper clips, and even screws and bolts? To keep track of these items and keep your area clean and organized, we put together a DIY magnetic pin dish craft using a 10mm x 2mm disc magnet. Find the full tutorial here. 
Mason Jar Lid Party Favors
This is a fun and easy craft to keep kids and parents happy! This mason jar lid DIY makes perfect party favors that last by using disc magnets. Read the full tutorial here. 
Wine Cork Succulents
These wine cork succulents are not only great additions to your workspace but they are also low maintenance and easy to take care of! Read the entire DIY here, but you'll basically just need some wine corks, succulents, and 10mm x 1mm disc magnets. 
Button Magnets
Chances are, you have an endless collection of buttons in your craft box that you'd like to use. Well, you're in luck! We have three simple, creative, and fun magnetic button DIYs which you can read about here. From layered button magnets to vintage key magnets, there's a craft for all button enthusiasts, all you need are some 1/4" x 1/16" disc magnets. 
Paint Sticks Picture Frame
Make frames for maps, wedding photos, school pictures, and more with this paint sticks DIY by using 2-4 10mm x 1mm or 12mm x 2mm disc magnets. Read the full tutorial here. 
Spoon Souvenir Magnets
By using multiple small disc magnets, you can make DIY magnetic spoon souvenirs that are great ways to not only show off your souvenir silverware but also add a vintage or classic look to your kitchen! Find out how to make your own here. 
Magnetic Branch Hanger
Looking for a new way to hang up your reusable shopping bags, small jackets, or dish towels? Try making some DIY Magnetic Branch Hangers that are both eco-friendly and creative! Grab some small mounting countersunk magnets and head here for the full tutorial. 
The Possibilities Are Endless With Apex Magnets
There you have it! Now you can try out these magnetic DIYs to repurpose and reorganize your home without breaking the bank. For more magnet tips and tricks, check out our fix it with magnets or magnets for crafts sections of the blog.