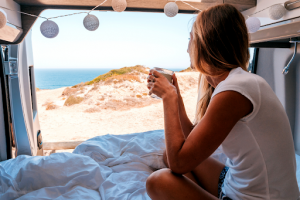 We've shown our customers over the years how to use magnets in their homes, apartments, backyards, gardens, and even while camping, but we've never shared how magnets can make their way into van life — until now! As more people secure remote jobs, some are opting for the nomadic lifestyle. The great things about vans? The entire frame is magnetic, so magnets come in handy for organization and decoration! 
Whether you already have a van and are looking for ways to spruce it up or are considering life on the road but aren't sure where to start, we've pulled together some ways to incorporate magnets.  
Magnetic Window Covers
While you could easily cover the windows in your van with some fabric and a few magnets, DIYing your own window covers with 1" x 1/8" sewing magnets is a great solution for giving you privacy while taking up as little space as possible. This tutorial is a bit time-consuming compared to our other how-tos and hacks, but with a little patience and some sewing, you'll have custom window covers for a fraction of the cost of ordering them. 
Magnetic Bug Screen
If you're living the van life, you're likely going to stay in some places where bugs are everywhere and have no respect for personal space. That's why having a bug screen for your door is key! This way, you can get a solid breeze without the pests that inevitably come with it. We've covered how to make a magnetic window screen for car camping, but when it comes to your van, you'll probably want to have a screen that is easy to open. An easy solution is to buy a magnetic screen door and simply attach it to the inside of your van with magnets, such as these 3/8" x 3/8" x 1/8" block magnets.
Magnetic Cabinet Latch 
If you've outfitted your van with some cabinets for storage, consider installing magnetic latches! With our easy-to-follow tutorial, you'll only need 1" x 1/2" x 1/8" countersunk block magnets, screws, a drill, and a screwdriver. These latches provide resistance and prevent any cabinet doors from unintentionally opening. 
Magnetic Spice Rack
Because the walls of the van are magnetic, creating a magnetic spice rack is an easy solution for more storage! This could also be used to store small items that are easy to misplace or get jostled around while driving. You can find our tutorial here. All you'll need for this project are some tins or jars, 16 mm x 4 mm disc magnets, and epoxy! 
Hook Magnets to Hang Items
An obvious but extremely useful application of magnets for van life is hook magnets for hanging and storing items. You could use 12-pound hooks to hang washcloths, dishcloths, or bath towels. 30-pound carabiner hooks are great for hanging items from the ceiling, such as a hanging basket in the kitchen area for fruit. You could also use eye bolt hooks and some cotton or nylon line to create a temporary clothesline across your van. The options are endless!
Hit the Road with Apex Magnets
If you try any of these hacks in your van or have some #vanlife hacks of your own, send us some photos or share them on our Facebook page! For other magnet hacks, visit the fix it with magnets section of the Apex Magnets blog.