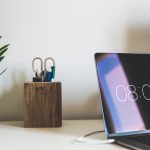 We all know that time is valuable. Chances are, you've had that very same thought at least twice today already. Or maybe you said to yourself, there's not enough hours in a day.   It's true, we're always looking for ways to add more time to our lives but to-do lists seem to be just as never-ending. To help you out, here are some magnetic hacks and DIYs that you can do around the house (or camper!) in under 10 minutes. That means they save you time and stress in the future. 
Camping Hacks
Campsite Marker
If you're worried about losing or damaging your proof of purchase for your campsite, put your mind at ease with a DIY campsite marker. Simply put your proof of purchase or permit in a clear, plastic case. Then, attach a magnet to the back of the case; we'd recommend something like a 10mm x 5mm disc as you want to make sure it'll stay in place when exposed to rain or wind. Now, you can attach the case to your camper or anything else that's magnetic near your site for easy access. 
Secure Your Tablecloth
The last thing you want is for your food to fly away when your tablecloth inevitably blows with the wind. Save your sanity and your food by using four to eight ½" x ½" x ½" cube magnets to keep the cloth secured. After laying out the tablecloth, use one or two magnets at each corner — placing one magnet on top of the table and one underneath. 
If you have some more time (...that's a big if), then check out 4 more ways magnets can help with your next camping trip here. 
Around the House
Bedroom 
If you spend a lot of time in your bedroom retreating from stress or sleeping soundly, you might as well decorate the way you'd like and take advantage of organizational hacks. From hanging up something simple –– art, tapestries, pictures –– with adhesive magnets to using magnetic hooks to hang clothing, jewelry, and more, you can make some major upgrades to your bedroom with just a few magnets and a little bit of time! Check it out here. 
Kitchen
Looking for a five-minute DIY craft (minus the drying time!) that will liven up the look of your refrigerator? Make some trendy crystal magnets using only an assortment of raw crystal and minerals from your local craft store, small neodymium disc magnets, and hot glue or super glue. Check it out here. 
Or, finally fix that pesky cabinet drawer from opening on its own with this tutorial. With only five materials (a drill, screwdriver, pencil, screws, and 1/2"x1/8" neodymium countersunk block magnets) you can make a world of difference in your kitchen. If you don't want to drill holes, you can use adhesive magnets as long as you follow some guidelines, which you can find here, of allowing the adhesive to set! 
Functional DIYs
DIY Magnetic Calendar
As we've learned this year, plans can change at the drop of a hat. Instead of scratching out dates, use this magnetic calendar for easy switches and flexibility thanks to magnets! Read the entire tutorial here, but, you'll just need 18mm x 2mm disc magnets, flathead pin magnets, Sharpies, sticky notes, washi tape, and a magnetic surface! When plans change, you'll just need to remove the sticky note and add another one. Easy peasy! 
DIY Magnetic Money Clip
Hold your loose change and paper money in a convenient clip that's equal parts stylish and convenient — all you need are leather scraps and two block magnets and you can make a magnetic money clip in less than 10 minutes! Check it out here. 
By using some disc magnets you can hold book pages in place to not only save your place, but also to prevent the pages of a book from sliding and falling open.
Magnetic Lights for bikers
Stay safe while biking this winter by attaching a bike light to your bike or your helmet using magnets. All you have to do is glue a strong neodymium magnet to the back of your mobile light source — you can use a battery-powered bike light or try this tutorial for a magnetic induction bike light (this will take just a little more time than 10 minutes, sorry!)
Create More With Apex Magnets
There you have it! With just a few magnets and roughly 10 minutes, you can be on your way to a more organized home. For more neodymium magnet DIYs and hacks, check out our magnets for crafts and fix it with magnets sections of the blog.